To many people, coming up with a creative new way to market your business or sell your company's products can seem almost like magic. Especially when you are faced with coming up with an idea on a moment's notice. In these situations, pulling a rabbit out of a hat and pulling a great idea out of your head can seem equally impossible. The only real problem in most cases is that you don't know the "trick."

Concept development, the way we come up with creative ideas is a bit like magic. And like any magic trick it can be learned. There are a few tricks of the trade that can be learned by anyone. Nobody will confuse you with David Copperfield, but if you learn these tricks, you will be able to get through your next presentation, brainstorming session or crash deadline looking like an "idea person."

First of all, you must forget any preconceptions you may have about being creative. Creativity is not the exclusive domain of the artist, the photographer or the writer. There are creative chemists. There are creative carpenters. There are certainly creative chefs.

Virtually any profession has its imaginative practitioners. And there would be a lot more creative types in all professions if more people saw creativity for what it really is: the ability to look at something you've seen all your life and see something new. All creative people have developed this ability to look at the familiar in unfamiliar ways. They are able to change the context of something just enough to make the ordinary seem extraordinary. Although it may initially "seem" like magic, this ability to see the world with fresh eyes is a skill that can be learned by almost anyone.

The trick is, how can you be creative on command? How do you come up with a great idea when a deadline is staring you in the face? How do you put a fresh spin on a brochure, an ad, or a newsletter when you've been dealing with the same issues for year.

The secret is in changing the context in which your message is seen. Not a lot. You still want to communicate. But you want to communicate with a freshness that makes your audience sit up and listen. You change the context just enough so that your message is seen with fresh eyes.

There's nothing special about watching a football game. But when the "players" are Clydesdale horses and the "goal post" is a telephone line running across a Wyoming prairie, you sit up and take notice.

There's nothing special about getting a beer out of the refrigerator, but when your dog is the one that retrieves the brew and brings it to you, you sit up and notice.

There's nothing special about a car driving down a straight road through a field of corn, except when all the corn starts "popping" as the car passes.

All of these popular television commercials take a very familiar subject and change the context just a little to catch our attention. We immediately get the message. But somehow it seems a bit more memorable. For lack of a better word, it now seems creative.

The ability to look at familiar things in unfamiliar ways is the basis of almost all creativity. Jay Chiat used this principle to create the memorable "1984" commercial for the Macintosh Computer. Jonas Salk used somewhat the same principle to develop a vaccine for polio. While most business communications don't involve matters of life or death, it can certainly seem that way if you're staring at a deadline without an idea.

So, how to you develop this ability to see with fresh eyes? To come up with an unending supply of ideas on command? Well, believe it or not, one of the most powerful tools you can use is the cliché.

The cliché has a bad rap. People are constantly denigrating the use of clichés in business communications. But, like it or not, we as communicators can't live without them. Clichés are valuable because people already understand what they mean. Everyone knows what the term "winner's circle" means. That's why it's so easy for Pirelli to look like a winner by changing the context of this phrase by pairing it with a picture of one of their tires. When you see the words and the tire together, the context of "winner's circle" is changed just enough to create a memorable ad for Pirelli.

In a similar vein, MCI, just by changing the date of Independence Day from July 4, 1776 to February 8, 1996 in a Wall Street Journal headline, makes a memorable point about the new Telecommunications Bill that has recently become law.

Doyle Dale Bernbach changed the face of advertising forever with a simple cliché. Their classic "Think Small" ad made Volkswagen a household word.

Campbell Soup turned the phrase "Pop Art" to its advantage by pairing the famous Andy Warhol soup can painting with the headline "Mom Art" in an ad for its popular line of soups.

You can't pick up a newspaper, read a magazine or turn on the television without seeing another example of a cliché used to create interest in an advertiser's message. You can't pick up a CA Magazine or an advertising awards show annual without seeing the same thing either. If some of Madison Avenue's best and brightest creative people are using clichés, familiar phrases you've known since you were a kid to deliver their client's message, you can too.

Think of the following phrases. Do they suggest an ad for something.
Time is on our side.
What this country needs is a good 5˘ cigar
Life, liberty and the pursuit of happiness
Game ball
Monkey Business
Mama's Boy
Raining Cats and Dogs
Speak softly and carry a big stick
Blind justice
She loves me, she loves me not
Party Animals
Indian Giver
If it's not broke, why fix it?

You get the idea. The possibilities are endless. And often, all you have to do is change a single word in a well known cliché or perhaps pair the familiar phrase with an incongruous visual to change the context of your message just enough to make it memorable.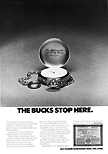 this is a cliché
Clichés are by no means the only way to change the context in which your message is heard. They are just the easiest way. And using them as a creative tool is often a great way to get your thought processes started.

and so is this
Before we move on, I'd just like to remind you that clichés can be visual as well as verbal. A heart shape is an obvious visual cliché. So are crosses, traffic signs and elephants. Communicators often concentrate on words, forgetting that visual images are frequently the most powerful way to deliver their message.
There are many other ways to change the context in which your message is heard. The use of analogies is a popular way to make your point more memorable. Contrast is also a popular tool of creative people. Like any skill, your creative executions become more polished as you learn to distinguish between the wide variety of tools you can use to manipulate context and apply the most appropriate method to the job at hand.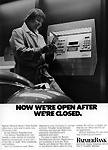 this is contrast
For example, if you were trying to sell a car, you might contrast the performance of one brand versus another. A simple comparison might show that "Brand A" gets forty miles to the gallon and can make it from Dallas to Houston for thirty dollars less than "Brand B" which gets only twenty-three miles to the gallon. These types of comparisons are often quite effective. But consider what you could do if you used an analogy to demonstrate gas mileage instead. You might be able to show, for example, that a certain brand of car could make it from Dallas to Houston for less than the cost of a long-distance phone call. Comparing a Honda to a Buick is using contrast. Comparing a Honda to a telephone call is using an analogy. Using a headline that says "High Yield Investment" paired with a picture of the car, would be using a cliché to say essentially the same thing. Which of these methods is better. Often it depends on your audience. All three methods, if properly executed, will be viewed as highly original and creative.
There are no rules here, but obviously you would communicate to an audience of teenagers differently than you would to a group of senior citizens. The trick is in understanding what your audience understands and then pushing those boundaries just a little. If you change the context of your message too much just for shock value, you run the risk of not communicating anything at all. There have been some spectacular advertising failures that have done just this. The original Infinity campaign that didn't even show a car in the ads, changed the context of their message too much. The whole selling premise became abstract and failed to communicate that the company actually wanted to sell you a car.
Learning to be "creative" on demand is a bit like playing piano in a piano bar. You've got to know the music. . .that is, you've got to know how to use clichés, contrast, analogies, sequences, nostalgia, incongruous elements and participation to make your point as effectively as possible. But this is just the beginning. You've also got you know your audience. You've got to be able to take requests. To play, in effect, the music your customers want to hear.
Let's say you were selling the services of an insurance company. Would you sell the company's services differently to men and women? To baby boomers and new college graduates. Of course you would.
Easy Rider might make a provocative headline for talking about the importance of insuring furs and jewelry to an audience of boomers. You'd probably want to take a different approach talking to a Gen-X crowd or senior citizens however. What one audience thinks is shocking, another audience could find boring. One of the biggest mistakes creative people make is in assuming that their own particular perspective on things is shared by others.
To much advertising is actually directed toward creative people's friends. In an effort to impress their peers, the message itself becomes little more than an inside joke. If you change the context of your message so radically that the only people who understand it are other art directors and designers, all is lost.
Remember that the wheel has already been invented. An incredible amount of creative energy is wasted trying to develop something totally "new," when a fresh look at something familiar would really be the more appropriate solution. If we really want to communicate, there's got to be some common ground with our audience. The use of irony, drama, humor and fables can be as effective today as it was hundreds of years ago. You just have to understand the medium you are working in.
If you are working on a CD-ROM project or an Internet web site, you don't want to tell a story with an obvious beginning and end. If you are doing a TV commercial, you don't want to forget that pictures speak louder than words. Every audience and every media has its own peculiarities. What ties everything together however, is your ability to manipulate the context of a message to most effectively reach its intended audience.
Context is everything.
If you know your Mother Goose, you'll remember an imaginative old woman who made a house out of a shoe. In her own way, she was quite creative and used some of the same principles we are talking about here. There's no reason why you can't do the same.